Drama and Performance in the James Weldon Johnson Memorial Collection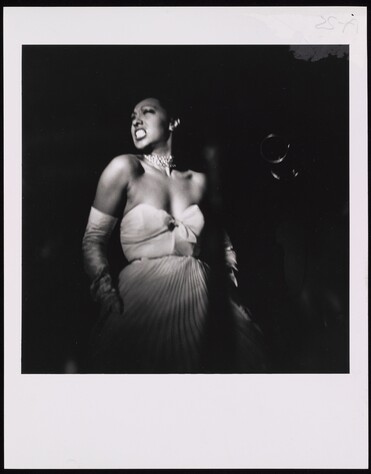 Researchers looking to learn more about the history of African American drama and performance will find ample materials in the JWJ Collection. The wide-ranging holdings gesture to the breadth and scope of African American performance traditions through letters, organization records, playbills, and other ephemera. For example, the Orpheus M. McAdoo and Mattie Allen McAdoo Papers offer a window onto both the life of the Virginian artist and entrepreneur, Orpheus McAdoo, and the happenings of the world-famous Fisk Jubilee Singers. McAdoo traveled and performed as a member of the Fisk Jubilee Singers, and the Papers include his detailed notes and scrapbooks concerning the Jubilee Singers' tours in Australia from 1886-1888. With similar international reach, The Josephine Baker Collection not only documents the renowned performer's well-noted time in France; it also contains materials relevant to her travels in Vienna, Argentina, and Canada.
In addition to these holdings that chart the long history of global African American performance, the JWJ Collection also contains more local materials that shed light into the lives and work of important individuals. The Lloyd Richards Papers document the life of educator, actor, and director Lloyd Richards—the celebrated director of the 1959 Broadway debut of Lorraine Hansberry's A Raisin in the Sun—who served as Dean of the Yale School of Drama and Artistic Director of the Yale Repertory Theatre. The Owen Dodson Collection consists of writings, correspondence, diaries, photographs and poets of the playwright and poet, who received his MFA at the Yale School of Drama. The Clippings File of the James Weldon Johnson Memorial Collection is rich with performance ephemera, including handbills, playbills, programs, and advertisements, particularly between 1945 and 1975.
Image above: Josephine Baker performing in Harlem. Photograph by Eve Arnold, Eve Arnold Papers.
Collection Highlights: