James Weldon Johnson Memorial Collection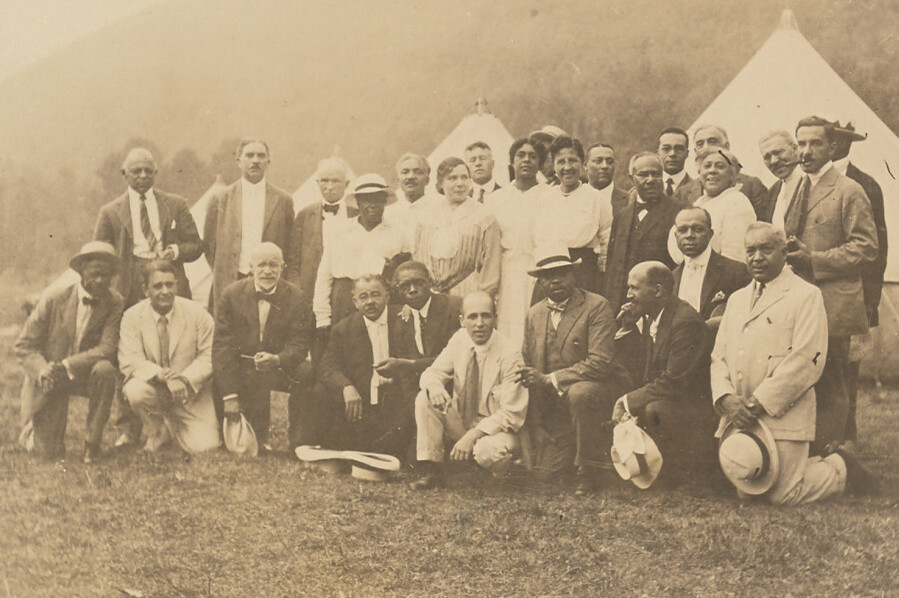 The James Weldon Johnson Memorial Collection (JWJ) documents and celebrates the cultural and artistic achievements and the intellectual and political activities of African Americans.
The JWJ Collection, founded in 1941, is a key archive of African American history and culture. With more than 13,000 volumes and hundreds of linear feet of manuscript material, it is one of the most consulted collections in the Yale Library. Representative manuscripts suggest the richness of the collection: Richard Wright's Native Son; Zora Neale Hurston's Their Eyes Were Watching God; W.E.B. Du Bois's Harvard thesis, "The Renaissance of Ethics" (which contains annotations by William James); James Weldon Johnson's Autobiography of an Ex-colored Man and God's Trombones; and Langston Hughes's The Weary Blues. Examples of the abundant correspondence include letters between Owen Dodson and Adam Clayton Powell; Joel Spingarn and W.E.B. Du Bois; and Georgia Douglas Johnson and William Stanley Braithewaite. The correspondence of James Weldon Johnson and Walter White documents the early history of the N.A.A.C.P. Also present are music manuscripts by W.C. Handy and Thomas "Fats" Waller, among others.
The collection was established by Carl Van Vechten to honor the remarkable life of his good friend, the author, professor, lawyer, diplomat, poet, songwriter, and civil rights activist James Weldon Johnson. Van Vechten was approached by Bernhard Knollenberg, Yale's head librarian, who told him, "We haven't any Negro books at all." These were, Van Vechten recalled, "precisely the right words to convince me that Yale was the place" to gift his personal archive and library, a relatively small but significant collection that reflected his abiding interest in and commitment to black people and black culture. Following Van Vechten's gift, Johnson's widow, Grace Nail Johnson, contributed her late husband's papers, leading the way for gifts of papers from Langston Hughes, W.E.B. DuBois, Walter White and Poppy Cannon White, Dorothy Peterson, Harold Jackman, and Chester Himes. The collection also contains the papers of Richard Wright and Jean Toomer, as well as groups of manuscripts or correspondence of such writers as Arna Bontemps, Countee Cullen, Zora Neale Hurston, Claude McKay, and Wallace Thurman.
The JWJ Collection also contains extensive visual material. Carl Van Vechten photographed hundreds of his friends including all the persons mentioned above as well as Alvin Ailey, Marian Anderson, Pearl Bailey, Josephine Baker, Ella Fitzgerald, Billie Holiday, Eartha Kitt, Arthur Mitchell, Paul Robeson, Margaret Walker, and Ethel Waters, to give but a sampling. These photographs, together with those collected by Langston Hughes and Richard Wright, comprise an important visual record of artists, writers, actors, musicians, and politicians active in the United States from the 1920s through the 1950s. Sculpture by Richmond Barthé, Augusta Savage, and Leslie Bolling, drawings by Mary Bell, a portrait head of Ethel Waters by Antonio Salemme, as well as commemorative medals and prints are among the many works of art in the collection. Acquired in the 1990s, the Randolph Linsly Simpson Collection of photographs of and by African Americans contains nearly 3,000 photographs of African Americans and spans the history of photography, from daguerreotypes and cabinet cards to photographic postcards and snapshots.
Robust acquisitions are ongoing. Recent additions include the archives of educator, suffragette, and anti-lynching activist Ellen Barksdale-Brown; the literary archive of playwright and director Lloyd Richards—who served as the dean of the Yale School of Drama and is remembered as the director of the 1959 Broadway production of Lorraine Hansberry's A Raisin in the Sun and a key collaborator of August Wilson—the papers of Dorothy Porter Wesley, the pathbreaking librarian of Howard University's Moorland-Spingarn Collection; several large groups of letters by James Baldwin; and the foundation records of African American poetry institution Cave Canem. The collection continues to grow beyond traditional print material with acquisitions in black tourism, beauty culture, and film ephemera.
Further Reading
Read scholar and James Weldon Johnson fellow Emily Bernard's remarks, on the occasion of the 75th anniversary of the James Weldon Johnson Memorial Collection, about the JWJ Collection and its founder, Carl Van Vechten.
Read Bernard's extensive history of the founding of the James Weldon Johnson Memorial Collection in her 2013 book Carl Van Vechten and the Harlem Renaissance.
Visit the African American Studies at Beinecke Library blog to see current and archived posts about scholarship, acquisitions, and more related to the JWJ Memorial Collection.