Harlem Renaissance in the James Weldon Johnson Memorial Collection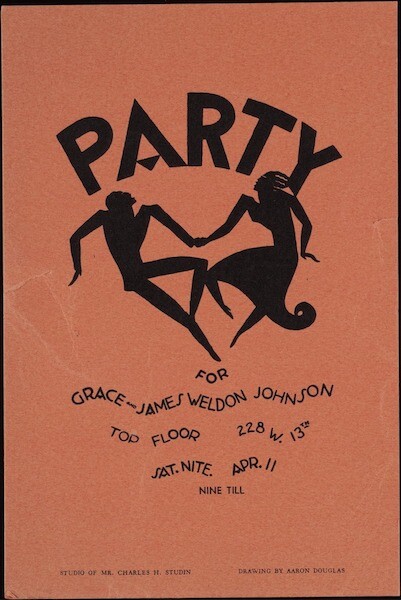 The JWJ Collection has extensive materials related to the Harlem Renaissance, the cultural, social, and artistic movement that took place between the First World War and the mid-1930s. Papers of many of the movement's key figures—including, among others, Arna Bontemps, Langston Hughes, James Weldon Johnson and Grace Nail Johnson, and Jean Toomer—constitute rich resources for understanding the depth and reach of this period.
Notably, the Langston Hughes Papers offer a vast archive of the seminal poet's fifty-year career. Personal and professional correspondence alongside poems, lyrics, newspaper columns and other writings give a sense of Hughes' profound international influence.While the iconic Harlem Renaissance took place predominantly in Harlem, Georgia Douglas Johnson's home in Washington, D.C. served as a meeting place for nearly all of the most prominent figures in the Harlem Renaissance, as evidenced by her letters. Writings from figures such as novelist and poet Claude McKay and artist, writer, and journalist Gwendolyn Bennett—both of whom spent significant time in France—underscore the diasporic dimensions of this crucial multi-generic artistic movement.
Collection Highlights:
Image Above: Invitation to a party at Grace Nail Johnson and James Weldon Johnson's home drawn by Aaron Douglas. The print shows two people dancing beneath the word "PARTY" in all caps. Call Number: YCAL MSS 49.