Music in the James Weldon Johnson Memorial Collection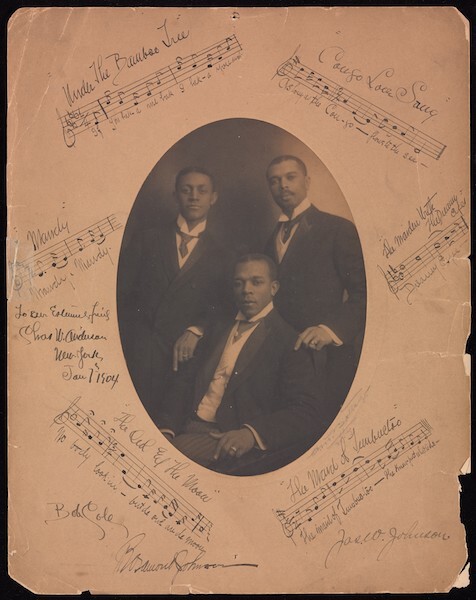 The James Weldon Johnson Collection offers a rich archive for researchers seeking to learn about African American music. James Weldon Johnson was a prolific lyricist, who often partnered with his brother, the musician Rosamond Johnson. The most enduring piece written by the Johnson brothers was "Lift Ev'ry Voice and Sing" (1900), which became the official song of the N.A.A.C.P. and is widely known as the "Negro National Anthem."  Along with many other of Johnson's lyrics, correspondence regarding music, and ephemera such as programs and playbills, the collection houses drafts of Johnson's poem "National Hymn," which would become the lyrics to "Lift Ev'ry Voice and Sing."
Additionally, the collection has roughly 3,000 pieces of sheet music, including spirituals, "plantation melodies," and "Negro folk songs." The holdings include music by composers W.C. Handy, Howard Swanson, Samuel Coleridge-Taylor, Georgia Douglas Johnson and many others. The collection also houses the papers of African American composer and pianist Margaret Bonds, who frequently collaborated with Langston Hughes to set many of his poems to music. 
Collection Highlights:
Image Above: Signed and notated photo of James Weldon Johnson, Rosamond Johnson, and Bob Cole. Call Number: JWJ MSS 49.