Political Action in the James Weldon Johnson Memorial Collection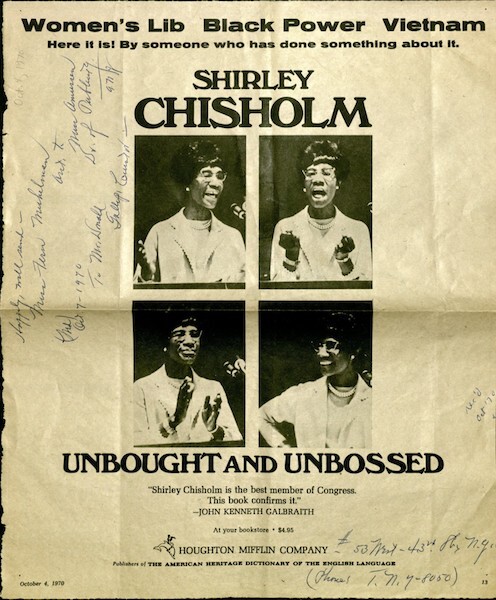 The James Weldon Johnson Collection contains a variety of materials related to a long history of African American political action on local and international scales. The materials in this collection testify to diverse modes of political engagement, from private letters to organizational receipts to drafts of published writings. The Walter Francis White and Poppy Cannon Papers document the lives and careers of African American civil rights activist, journalist, novelist and essayist Walter Francis White and his wife, Poppy Cannon—a white South African magazine editor and writer—from 1910 to 1956. The papers include correspondence, writings, and photographs related to Walter White's tenure as Secretary of the Atlanta N.A.A.C.P., as well as materials pertaining to his international work in Haiti and India. The Ella Barksdale Brown Papers offer another window into the life and career of a key political figure. The papers document Brown's activities as an educator, anti-lynching activist, suffragist and journalist from 1885-1952 and include, among other materials, correspondence with prominent Civil Rights leaders such as Booker T. Washington and Paul Robeson.
In addition to housing materials related to important national and international political figures, the JWJ Collection also has holdings that underscore New Haven as an important political site. For example, the Amos Gerry Beman Scrapbooks—by Hartford, Connecticut pastor and social activist Amos Beman—evidence the multiple genres in which political history is made and kept. The scrapbooks contain, among other materials, deeds, receipts, and correspondence pertaining to the founding of the Temple Street African Church and offer a glimpse into local African-American community life in the mid-19th century. The Catherine Roraback Collection of Ericka Huggins Papers contains documents compiled by Connecticut Civil Rights attorney Catherine Roraback, who served as lead defense council for Black Panther Ericka Huggins during the landmark 1970-1971 trial in New Haven.
Collection Highlights:
Image Above: Print advertisement for Unbought and Unbossed by Shirley Chisholm, 1970. Call Number: JWJ MSS 89.