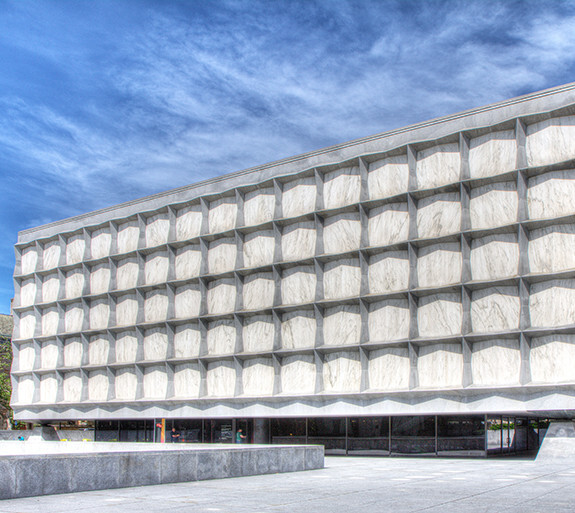 The Female American Poets: Archival Connections series weaves through various poets of the twentieth-century, using Beinecke's collections as a means of connecting one figure to the next. Each poet follows another, by means of letters written and received, mutual friends, common activities, or other coincidental or conscious meetings, all recorded and preserved in the Beinecke Rare Book & Manuscript Archive. The series presents the archive as a site of movement, transit, fluidity, and intersection, reveling in the ways language can carry us. 
This series was created by Rachel Kaufman, a student research assistant in the Beinecke's American Literature collection and a senior at Yale College.
Muriel Rukeyser (1913-1980) was an American poet and political activist born in New York City. As her archival record reveals, she was an outspoken advocate for social justice issues and much of her poetry stems from her political views and the history happening around her. Described as a "lyric, feminist poet" in her 1980 New York Times obituary, she wrote about the Scottsboro trial of 1932, the Spanish Civil War, and women's rights. The language of both her poetry and her personal letters is filled with witticisms, cynicism, piercing opinions, and commanding vivacity.
Gwendolyn Brooks (1917-2000) was an American poet, author, and teacher. She won the Pulitzer Prize for her poetry collection, Annie Allen, making her the first African American to win the Pulitzer. She was the poet laureate of Illinois from 1969-2000, the 29th Consultant in Poetry to the Library of Congress, and the recipient of the National Book Foundation's Medal for Distinguished Contributions to American Letters. Researchers may be interested in the extraordinary poet if they wish to research black culture and literature in twentieth century America, black political movements and activism in the twentieth century, literary activism, poetry pedagogy, or visual culture. Researchers will also find fascinating words about motherhood, time, and friendship in the letters between Brooks and Langston Hughes.
Elizabeth Bishop (1911-1979) spent her life in Massachusetts, Nova Scotia, New York, the Key West, San Francisco, Cambridge, and Brazil. She published only 101 poems during her lifetime. Her first book, North & South, published in 1946 won the Houghton Mifflin Prize for poetry. She won a Pulitzer Prize for an expanded book, Poems: North & South—A Cold Spring, in 1956. Bishop won a National Book Award for The Complete Poems (1969) and the Neustadt International Prize for Literature for Geography III (1977). She was the first woman and first American to win the Neustadt prize. Researchers will find in the Beinecke collections Bishop's intimate and sometimes exquisite correspondences, as well as many first editions of her books. Her poems and letters explore geography, friendship, first-wave feminism, animals, the literary world, mental illness, and music. Researchers may also be interested in her travels to Brazil and the ways in which she depicted and discussed her neighbors.
Margaret Walker (1915-1988) was an educator, writer, and scholar. She received many awards including the Yale Series of Younger Poets Award (Muriel Rukeyser also received this honor), a Fulbright Fellowship, and a Senior Fellowship from the National Endowment for the Humanities. Walker wrote books of poetry as well as a novel, Jubilee, based on her great grandmother's life. Walker founded the Institute for the Study of Black History, Life and Culture of Black People located at Jackson State College in Mississippi. Researchers will find in the Beinecke collections Walker's intimate correspondences with writer Richard Wright, photographs of Walker in New Haven, many signed poetry books and publications, and a stunning folio with Walker's poetry and Elizabeth Catlett's lithographs. Walker's work uses sound and song to explore the America around her, digging through oral, social, and personal histories to create poems rich and rhythmic. 
Maya Angelou (1928-2014) was an American poet, autobiographer, and activist. Alongside her writing career, Angelou was a singer, dancer, actress, and Hollywood's first female black director. As an activist, she worked for Malcolm X and Dr. Martin Luther King Jr., and across her lifetime, she was awarded over 50 honorary degrees, including the National Medal of Arts and the Presidential Medal of Freedom. Angelou joined the Harlem Writers Guild in the 1950s. Researchers may be interested in Angelou's explorations of sound, memory, and sexuality in her poetry and prose. Angelou's texts, performances, and collaborations trace and mark historical moments and movements, and her words investigate the history of Black oppression, activism, and power in America. The Beinecke holds many uncorrected first proofs of Angelou's books, and researchers may use these texts to investigate the processes of book-making and publishing.