Planning Your Research Visit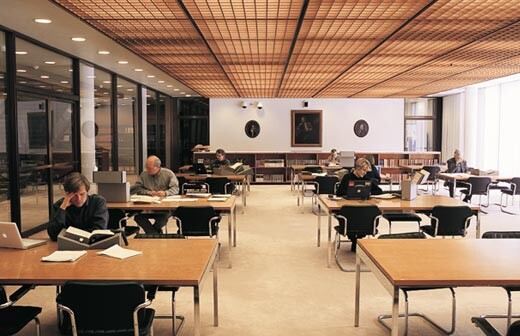 The Beinecke Library is open to all Yale University students and faculty, and visiting researchers whose work requires use of its special collections. You will need to bring appropriate photo ID the first time you register.
Click here for reading room hours and accessiblity information.
The reading room is open as follows:
Monday, Tuesday, Thursday, Friday 9:00 a.m. to 4:30 p.m
Wednesday, 10:00 a.m. to 5:00 p.m.
A note to readers: all materials must be returned to the access services desk at least fifteen minutes before the reading room closes. 
Please request collection material online at least two business days in advance of your visit, using the request links in ORBIS and Archives at Yale. We ask that you submit one request per box of archival material. 
Consult the Closed Collections Schedule while planning your visit.  Email beinecke.library@yale.edu if you have questions about the availibiltiy of specific items.  Additional time may be required to provide access to some items.
Please consult the Rules of Engagement and Policies prior to visiting the library.  All library materials must be handled with great care to ensure their safety and preservation. 
Researchers are encouraged to bring their own laptop computers.The Yale Guest network is available for those who are not affiliated with Yale. Individuals affiliated with participating US and international institutions may use the Eduroam network.  Two public computer workstations are available for reference use.
Please be prepared to secure most of your belongings in a Beinecke locker, as limited amounts of material are permitted in the reading room. Please note that only yellow pencils are permitted in the reading room.  Researcher may bring their own or one will be provided to them at the time of their visit. 
Researchers are encouraged to acquaint themselves with the library's holdings and to gather preliminary information needed to identify and locate materials relevant to their work by reading an overview of the curatorial areas of the collection and available library catalogs and databases. Yale University Library's online catalog, Orbis, and databases devoted to new acquisitions and manuscripts and archival materials provide descriptions of the library's books and archives. Curators and public services librarians are available for reference consultations by request.
Many Beinecke Library collection materials may be digitally photographed by readers in the reading room for study purposes with a small handheld camera, cell phone or iPad.  Large cameras and tripods are not allowed.  Researchers will need to complete and sign the "Policy on Digital Photography be Readers in the Reading Room" as a part of the registration process.   It is also possible to order reproductions.
Born-digital materials in manuscript collections also must be requested at least two days in advance. Permission to view these digital files will be granted to researchers upon application. Please review our access policies for specific information about born-digital collection materials.